The Chairman of London South East Colleges, Stephen Howlett, took a trip to Buckingham Palace yesterday to be presented with his CBE by HRH the Prince of Wales.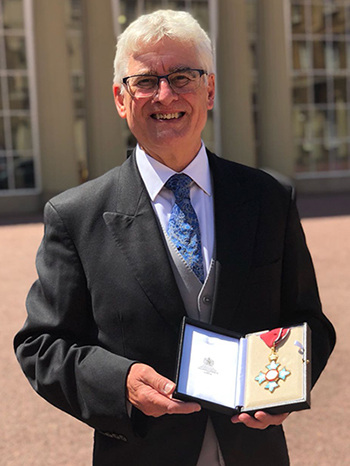 Stephen was included in the New Year's honours list for services to housing, in recognition of his 42-year career in this field.
Last year, Stephen retired from his position as CEO of housing association Peabody and became the Chair of London South East Colleges. In addition to his CBE, Stephen is also a Deputy Lieutenant of Greater London and is co-chairing the implementation of the Greenwich Fairness Commission's recommendations.
Speaking after the investiture, Stephen Howlett CBE said: "It's been a very special day for me and my family, and an experience I will always remember - particularly receiving my CBE alongside Barry Gibb, Rick Stein and opera singer Gerald Finley!
"I am honoured to have received this award. I have had an amazing career and am indebted to the amazing colleagues, Board members, residents, partners and family who have supported me throughout.
"Through housing and in education, I've always been keen to help people get the opportunities that I had. A poor background should not be a barrier to success and prosperity and I'll continue working to help create opportunities for people to achieve their aspirations."
Offering her congratulations to Stephen, the Principal and CEO of London South East Colleges, Sam Parrett OBE said: "We are all delighted for Stephen. He thoroughly deserves this accolade and we are very lucky to have him and his expertise heading up our Board."
---
Related news: College Chair is appointed as a Deputy Lieutenant of Greater London
---
Related news: FE focused Stephen appointed as new Chair at London South East Colleges
---
SN