Dr Sam Parrett OBE
Group Principal and CEO
Sam was appointed Principal of Bromley College in 2010 and oversaw its first merger with Orpington College in 2011. In 2013, the College set up a new multi-academy trust, incorporating four special and alternative provision schools in the Borough. Following this success, Sam went on to lead the College through the country's first three-way college merger with Bexley College and Greenwich Community College – creating London South East Colleges in August 2016.
London & South East Colleges Group, headed up by Sam, was established in 2017 as the overarching organisation encompassing London South East Colleges, London South East Academies Trust (which has now grown to eight schools) and London Skills for Growth.
Sam started her career in the HR sector. She then managed a training provider and worked for a funding agency before joining the FE sector in 1997. She took up posts in three colleges before being appointed Principal at Bromley.
Sam is a fellow of the CIPD and a fellow of the RSA, as well as a Vice-Chair of Mixed Economy Group (MEG). She was awarded an OBE for services to Further Education in 2016 and achieved her Doctoral Degree in Education in 2019. Following this, Sam became a National Leader of Further Education (NLFE) - one of just eleven in the country and was appointed as an advisor to the Disabled Students' Commission - a new independent group, set up to support disabled students.
Group Principal and CEO of London & South East Education Group expenses can be seen here.
---

David Lambert
Deputy CEO and Principal
David joined the College in 2004, initially as Head of Construction and Engineering before progressing to his current position.Before starting his career in Further Education, David worked in construction, serving an apprenticeship as a carpenter before moving into site and project management.
---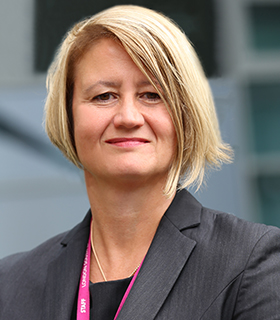 Louise Wolsey
Group Chief Transformation Officer
After working in West Sussex Advisory and Inspection Service during which she gained a Masters degree in School Improvement, Louise went on to work in the voluntary sector, undertaking a range of Business Development and Communications roles. These included 7 years at the Youth Sport Trust from which she went on as Director of Fundraising and Communications to establish the Dame Kelly Holmes Trust, before joining Westway Trust as Director of Development 2013. In September 2015 Louise joined Bromley College of Further and Higher Education, and with her Executive Colleagues worked towards a successful merger and the formation of London South East Colleges in August 2016.
---
Jennifer Pharo
Group Executive Director Governance
Jenny was appointed Executive Director for College Services in September 2015. Her career began in the legal, investment, banking and financial services sectors. Jenny then retrained as a Business and IT teacher and moved into the FE sector 17 years ago. As part of the senior management team at a large London college, Jenny led on business operations, resources and MIS before moving into her current role at London South East Colleges.
---
John Hunt
Group Chief Financial Officer and Deputy CEO Trust
John joined the College in June 2013 as Vice Principal Finance & Resources, before progressing to the role Group Chief Financial Officer for the Group.
John is a fellow of the Association of Chartered Certified Accounts and started his accountancy career in manufacturing, before spending 10 years working in forensics. He joined the education sector in 2007, and has also spent 5 years working as a part-time lecturer in a Further Education College. He has track record and wealth of experience of delivering significant business improvements, leading through periods of change, and managing business support services.
John is also the CEO of our charitable subsidiary, London Skills for Growth.
---